Mission
The Wisconsin Clean Marina Program promotes and celebrates the adoption of best management practices by marinas and boaters that keep Wisconsin's waterways clean and safe.
What does the Wisconsin Clean Marina Program do?
The Wisconsin Clean Marina Program provides guidance, education and technical assistance to support marinas in the adoption of best management practices to reduce pollution from their facilities and boaters into Wisconsin's waterways.
The program also recognizes and promotes marinas that have voluntarily met the rigorous pollution prevention standards to become a certified Clean Marina.
What is a Clean Marina?
Wisconsin's certified "Clean Marinas" have been verified in meeting federal and state pollution and safety laws and have adopted best management practices that make Wisconsin's waterways cleaner and safer for boaters to enjoy.
Best management practices typically include preventing and cleaning up fuel spills, proper storage and disposal of chemicals and hazardous waste, recycling, reducing stormwater pollution, improving vessel maintenance practices and boater education.
Certified Clean Marinas are recognized as environmentally responsible businesses.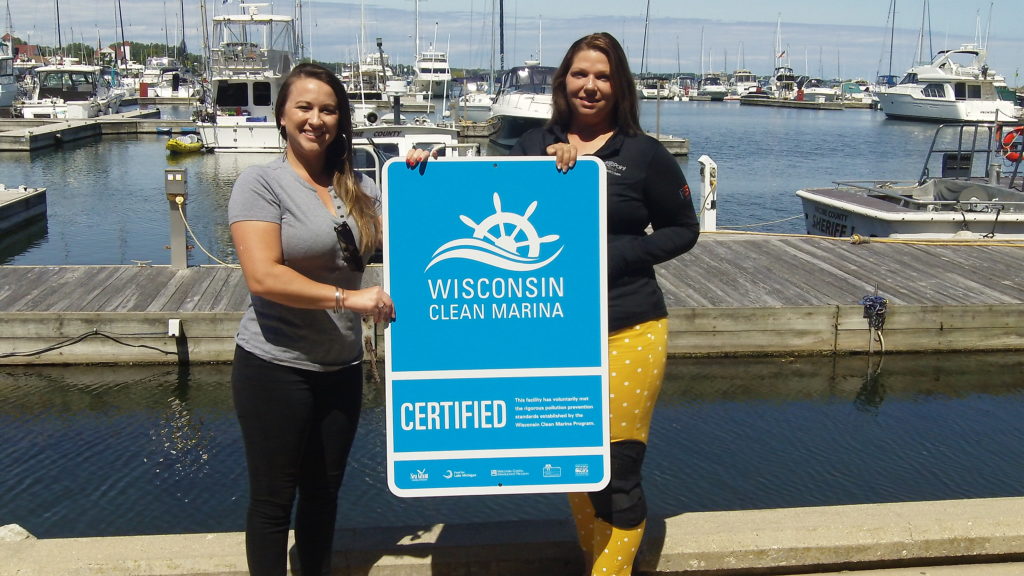 Why become a certified Clean Marina?
Clean lakes and rivers are good for business. Clean waterways are essential to Wisconsin's boating industry. Clean Marinas are recognized as environmentally responsible businesses and often receive positive feedback from their boaters regarding certification.
Creating a safer and healthier place to work and recreate. In a 2017 survey, more than 75% of Clean Marinas indicated that their facilities were safer and cleaner after becoming certified.
Enhancing your image among boaters and your community. The majority of Clean Marinas say that certification has improved the image of their marina within their community and among boaters.
Stewardship of Wisconsin's lakes and rivers. Clean Marinas have access to resources to prevent water pollution and help stop the spread of aquatic invasive species.
Clean Marina Benefits
Free Clean Marina sign, burgee and certificate.
Press release and social media coverage announcing your certification.
Use of the Clean Marina logo in your advertising, letterhead, social media and website.
Clean boater education materials.
Ongoing promotion of your marina online and at events.
Technical assistance, educational workshops and funding opportunities.
One-year membership to the Wisconsin Marine Association.